What is a technology service?
A technology service is a component or collection of components that supply a need for an end user group. The components may be a software application or system (e.g. ticketing, mobile app, office365), telecommunications (e.g. WiFi, internet, cellular, private mobile radio), computing infrastructure (e.g. virtual machines, physical servers, storage) or managed devices (e.g. laptops, printers, environmental sensors).
When is a technology service in operation?
When a service goes into its intended use by the end users, it is part of technology operations. This is after the acceptance criteria for the service have been met and there is an agreed support model in place to ensure the services meets the expectations of the end users.
At this point the service is considered live and the support framework should be in place.
Technology services for major events
Every event is different, and services evolve over time. However, around 80% of technology services are common between major events whether they are multi-sport, single sport or non-sport as shown below.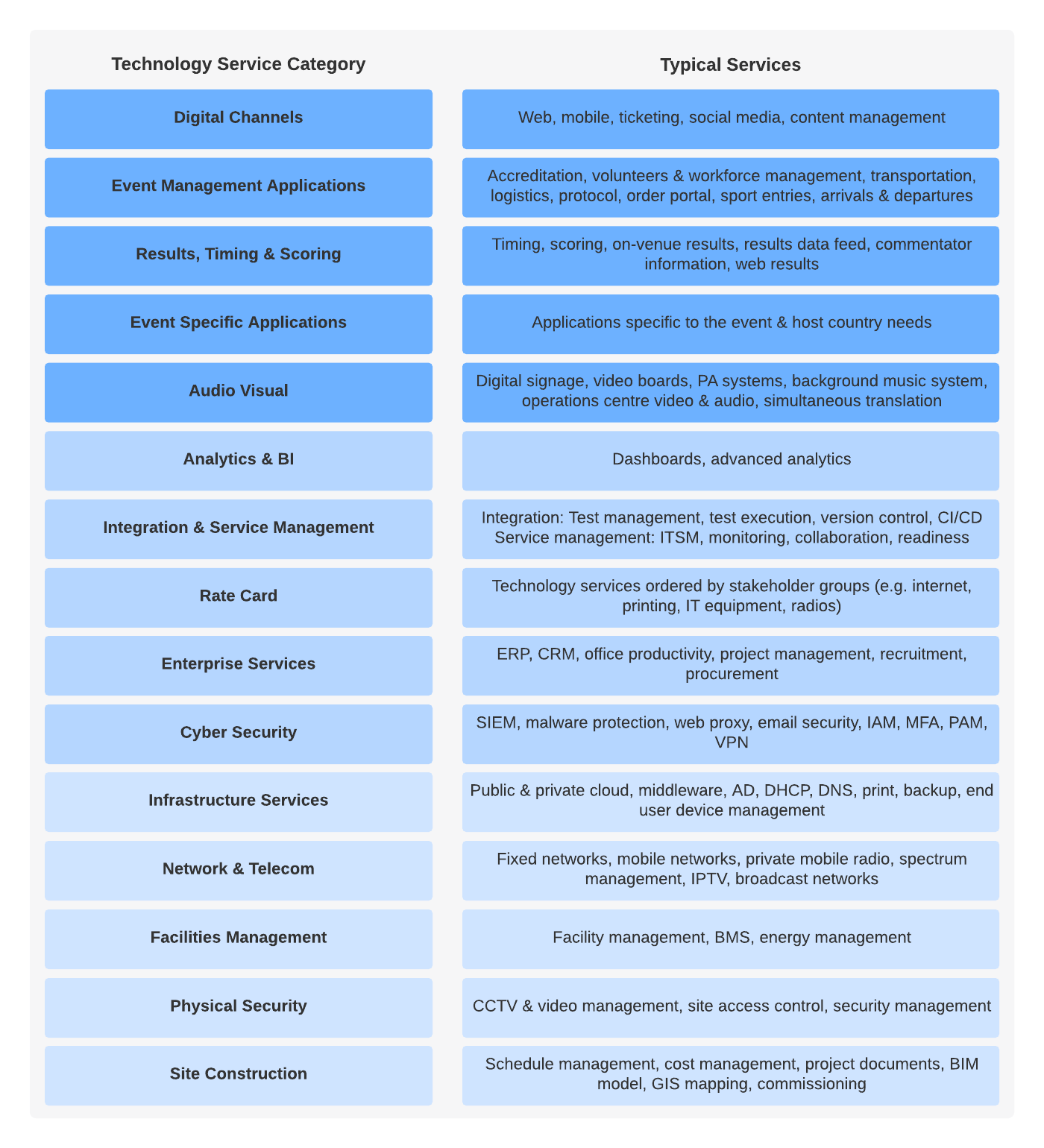 The above diagram forms the basis for the technology service catalogue. Some notes:
Enterprise Services may be called back-office IT, office IT or office & admin systems depending on the organiser.

The above diagram includes some categories that are not traditionally part of the organiser technology function such as facilities management, physical security and site construction. But as software, networks and computing infrastructure become far more pervasive, we think it makes sense to consider these as part of the technology function. Energy is another area where technology services may be considered.
The technology service catalogue
The technology service catalogue is the single most important document for technology operations. It is used for both planning services and supporting services. During the operational periods it is the reference point for understanding who supports what.
Each technology service would have an entry in the service catalogue like the one below.
| | |
| --- | --- |
| Service ID | S-025 |
| Service Category | Event Management Applications |
| Service | Accreditation |
| Service Description | A system to manage the registration, access, privileges and issuing of credentials of those working or participating in the event (excluding spectators/visitors). |
| Service Criticality | High |
| L1 Support Group | Technology Service Desk |
| L2 Support Group | Event management support team |
| L3 Support Group | Supplier A / Team X |
| Infrastructure Support | Supplier B / Team Y |
| Service Provider | Supplier A |
| Support Coverage Hours (Pre-Event) | 8x5 |
| Support Coverage Hours (Event) | 24x7 |
| IT Service Owner | Jane Doe |
| IT Service Owner Dept | Event Technology |
| Business Owner FA | Accreditation FA |
| Business Owner Contact | Yannis Papadopoulos |
| Service Location | All |
| End User Groups | Accreditation FA |
| Service Status | Not Live |
| Planned Go-Live Date | 10/05/2023 |
Onboarding technology services
For a service to be supported according to agreed service levels and end user expectations, it needs to be onboarded into the support model.

When done properly:
Monitoring is configured according to SLA/SLO/SLIs

ITSM is configured for all characteristics of the service including support teams, SLAs, assets and knowledge management.

The service desk is ready to deal with incidents and requests, they can resolve standard topics and know where to assign the ticket for further investigation or action.

The team who will support the service (L2/L3) understand how the support model works, they gain access to the tools and learn how to use them,

The business owners for the service and end users are guided on how to receive support for their service.